Our Pearland Irrigation Contractors Will Take Your System To The Next Level


Our professional Pearland irrigation contractors are dedicated to make all of our customers landscapes look like they were pulled directly from the cover of a magazine. You have a vision and we have the tools to make it a reality. Why should you choose us? Simple. We are the best sprinkler guys in the Houston area, bar none. Back when we started, Pearland was a cozy little community of about 30,000. We were one of two sprinkler repair teams in the vicinity. As the city has grown, so has the competition. Fortunately for those of you who were here before the massive growth, we know how to handle your older sprinkler systems. Some of the new guys may not be able to say the same.
Even as we expanded our team to accommodate the new construction to the west, we provided top notch training to all of our new associates. Each and every new employee had to pass a drug screen and background check as well as a skill based recruitment test. We only hired those with an innate ability to repair highly technical devices.
Highly Skilled And Experienced Contractors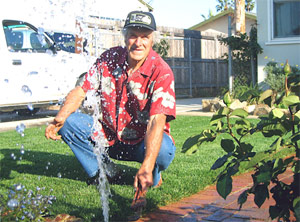 Our staff is filled with professionals with exceptional skill and craftsman level performance. This is partly because we offer in depth training and partly because we have the most experience in the greater Houston area. The new sprinkler repair guys on the block don't have near the real world experience that we do.
A technician is only as good as his tools. That's why we make sure that we have the best tools available in the industry. We have electronic leak detectors, trenchless line repair systems, video snakes, and ultra sensitive pressure detectors. Every tech is trained on each new piece of equipment in-house. So, we don't just have the fancy tools, we actually know how to use them.
Professional Tools For Professional Repairs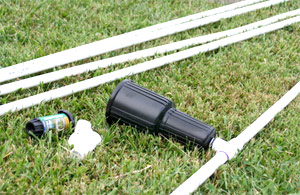 Great technicians with the best tools still need one more thing to deliver the best repairs in the business - high quality replacement parts. It doesn't matter how good the repair is if the part will just fail in a few months. We only use manufacturer approved parts direct from the company. If you have your own after-market parts, we can install them, but we will do so without warranty.
Call our Pearland sprinkler service today and see the difference a well trained, experienced team can make for your lawn.